Dr. Jena Hong grew up in Nashville, TN where she stayed and attended Vanderbilt University to complete her undergraduate studies and majored in Molecular and Cellular Biology. She then went on to complete her Master's degree in Oral Health Sciences as well as her DMD from Boston University, where she graduated summa cum laude in 2018. During dental school, she discovered her passion for orthodontics and went on to receive her MSD in Orthodontics and Dentofacial Orthopedics at the University of Colorado. Upon graduation from orthodontic residency, Dr. Jena became board-certified by the American Board of Orthodontics. She is also a member of the American Association of Orthodontists, American Dental Association, Colorado Dental Association, and the Metropolitan Denver Dental Society.

When people ask Dr. Jena why she chose dentistry and orthodontics, her genuine reply is that she loves teeth and beautiful smiles. That's because she believes a happy smile is our most beautiful attribute, and she is excited to help people find their most confident and happiest smiles. Having had braces when she was younger, Dr. Jena knows firsthand the impact orthodontics can have on one's life. She feels extremely lucky to be a part of a profession which can have a profound and positive impact on the lives of so many, and she is particularly excited to make connections with the patients and families in this community.

During her free time, Dr. Jena loves to spend time with her husband and dog, Louie. They enjoy taking advantage of the beautiful outdoors that Colorado has to offer, whether it is hiking in the warmer months or skiing in the winter. She also enjoys mentoring pre-dental students and has given several lectures to pre-doctoral students who hope to pursue a career in the dental field.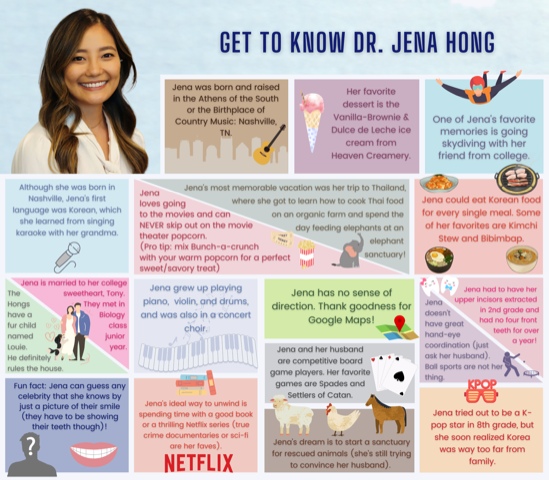 Schedule a complimentary consultation at our Littleton , Highlands Ranch or Castle Rock location to learn more about how the team at Holt Orthodontics can improve your smile!