"The office has a great friendly feel. As an adult, I was the patient, and they were all awesome about having to bring my little ones to my appointments. Dr. Holt's office made wearing braces easy!!!"
— Jamie L.
---
---
"Thanks to Dr. Holt's office for making having braces so much fun for my son. I am thinking he will be 20 or something before he wants his braces off. Lol! There aren't many ortho offices that make a kid want to keep their braces on. We so enjoy our visits with all of you!!!!!"
---
"Absolutely best place to get orthodontia done. My case was challenging and I interviewed five other providers before I saw Dr. Holt. His treatment plan was well structured, truly personalized to my circumstances, and the process was followed through with results as planned. Comparing to treatment plans suggested by other DDS, Dr. Holt's was shorter, and did not require costly pretreatment splints or anchors placed in my jaw. I am truly grateful that I found this practice."
---
---
"Dr. Holt and his office staff have been fabulous! My daughter had a challenging case, but Dr. Holt was up for the challenge! My daughter now has a beautiful smile!!"
---
---
"This place is AWESOME and I recommend it to everyone."
---
"My family has been going to ortho appointments for the last 12 years. We started with Dr. Albert and transitioned to Dr. Holt when Dr. Albert retired. My four kids and I have received orthodontic treatment. We have been very pleased with Dr. Holt and his staff. We trust Dr. Holt's knowledge and expertise in providing us the best orthodontic care in the Littleton/Highlands Ranch area. His easygoing, caring manner is highly valued by us 'dental phobic' patients — those of us old enough to have experienced traumatic dental procedures as kids. Dr. Holt's staff is exceptional — never giving the impression that you are 'one of many patients.' They remember you by name and over time, friendships are established.
"Today, my last child is getting his braces off. Although I won't miss the ortho appointments, I will miss seeing Dr. Holt and his staff on a frequent basis. I am very appreciative of the care and skill they have shown my family."
— Debbie Randolph
---
---
"Dr. Gary Holt and his staff are amazing. You always feel very comfortable and are greeted with a warm, caring, and friendly smile. Both my girls are in braces and I just finished my round of Invisalign® just a few months ago. It was awesome and my teeth look FANTASTIC and so BEAUTIFUL! My oldest daughter, Nicole, is getting ready to get her braces off soon and they are looking great. My youngest daughter, Alyssa, just started the first phase and she has a ways to go, but I have all the confidence in the world that her teeth will be amazing when they are all done. Dr. Holt's staff is simply out of this world and I look forward to the appointments so I can talk and laugh with all the ladies…. You have an OUTSTANDING team Dr. Holt … keep them happy ;-). I also appreciate you always being so flexible and working with me on the appointment times … very very helpful.
"I would highly recommend Dr. Holt's orthodontic office…. You will walk around with a big beautiful smile that will for sure be noticed!
Thanks you very much, Dr. Holt and staff … you are all the BEST!!!!"
— Becky Russell
---
"Although I don't have another practice to compare Dr. Holt's to, I would not even consider going somewhere else for either myself or my family. I have enjoyed the professionalism and courtesy of everyone in the office. This, combined with the knowledge of everyone on the staff, has made the entire process easy and memorable. I feel that whether a patient is a child or adult, Dr. Holt and his staff know just how to treat them. Oh, and my teeth look great!"
— Stephan A. Lewis
---
---
"If you are unsure of who to go to for your child's orthodontic care … look no further! Dr. Holt was the third orthodontist we'd been to see for an evaluation. Both my son Michael and myself were so impressed with the practice that he started treatment that very day. There is so much to be impressed by … the state-of-the-art technology, the appearance of the waiting area, the way the staff treats patients and parents alike. I enjoy a comfortable waiting area, my son likes the Blue Bell ice cream cups at the end of his appointment! Everyone I have encountered has been professional, friendly, and accommodating. I couldn't be happier with my choice to bring my son here."
— Diane McCray
---
"The staff is very friendly and helpful. At our first visit, they provided a thorough assessment. We were able to sit down and discuss the various treatment options available. Dakota enjoys the office and we look forward to seeing her improved smile soon!"
— Heather Christensen
---
"First of all, a great job done, Dr. Holt. THANK YOU! ... My total experience was great, from the first visit to the last. I was given multiple treatment options along with financial options. I had some constraints on time and all the options were tailored to suit that need. The option I selected was targeted for 18 months and standard wires (yeah, not even two years), AND within weeks I started seeing big differences. Dr. Holt and the staff made sure to align the treatment with my time constraint. My treatment was completed in an astonishing 14 months. My teeth look great now.
"Everyone, the front office, Dawn, Tina, Wendie, and all the nurses, were a great bunch who made the experience pleasant.
"One thing I loved was Dr. Holt never compromised on the improvement he wanted to see, nonetheless very accommodative to the patient needs."
— Mano
---
"Ever since I first met Dr. Holt, when he was taking care of my first two children with braces, I instantly felt comfortable with him. He is very personable and takes an interest in not only your children, but in you as a parent. Always optimistic and encouraging to his patients, Dr. Holt is a pleasure to see each time we visit the office. In addition, Dr. Holt's whole office staff is cordial and ready to meet your needs with a great attitude. Each one of our children's teeth look great after being under the care of Dr. Holt and his staff. Our family is now moving away, and I only wish I could take Dr. Holt and his office with me."
---
"Dr. Holt did an excellent job closing the spaces in my teeth to give me a beautiful smile and working within my budget to do so. Thank you, Dr. Holt, I will be forever grateful for my new smile! When my son is ready for braces, I will be back to see you."
— Erin
---
"I sought out orthodontic services after years of slightly crooked teeth and an issue with my bite. My teeth never closed right, so I constantly had issues with an open space when I would bite. I really didn't want to be a 37-year-old guy with braces, but after my daughter started treatment with Dr. Holt I decided to at least have a consultation.
"Dr. Holt met with me for every appointment and explained the process to me every step of the way. If Dr. Holt wasn't able to personally do the work he had described during that visit, one of his staff worked with me and he reviewed, inspected, and confirmed that things were done accordingly.
"In just over a year, I had an extremely straightened smile and a much better bite. I was never really ashamed of my teeth, but I now felt proud of them. I have referred many people to Dr. Holt and would continue to do so."
---
"I cannot say enough good things about Dr. Holt. I consulted with another orthodontist prior to Dr. Holt. The other doctor tried to steer me away from Invisalign and toward braces. Tina (Dr. Holt's outstanding office manager) completely spelled out my options and assured me that Invisalign was the better option. It was also more economical than braces would have been at the other orthodontist.
"Dr. Holt's staff is second to none. Each one is professional, yet personable. Never in my life have I had a better experience with a medical practice. I actually looked forward to seeing so many friendly faces.
"We took impressions of my upper and lower jaw and sent off for the retainer sets. I have a crown that gave us some problems, so the staff scanned my lower jaw to get a better reading. Nearly half of my retainers were re-cast, which solved the problem. I recently completed the treatment and, as Dr. Holt said, my treatment was so effective, I could be used as a model.
"Whether you have a youngster in need of treatment or you are an adult, Dr. Holt is the best in the business and I cannot recommend him enough. Friends and family have remarked at how great my teeth look."
— Joseph Spinelli
Quality Excellent
---
"Dr. Holt and all of his staff have been wonderful. Dr. Holt is caring, considerate, and conscientious. He has worked very closely with my dentist to achieve the results I wanted. I am thankful that I found an orthodontist who takes a personal interest in his patients. Thank you very much, Dr. Holt, for all that you have done for me."
— Tonya Palinaks
Quality Excellent
---
"Dr. Holt and his staff have been wonderful to work with. They are taking care of mine and my daughter's ortho work. I had to have some adjustments to my ortho plan due to issues I was having, and they came up with a plan that worked for me by changing me from Invisalign to regular braces. They have braces that are almost impossible to see, so I still got the benefit of not having the braces so noticeable, which is why I went with Invisalign initially. They adjusted the plan quickly and were not upset with my change at all. My daughter also loves Dr. Holt and his staff. They are always friendly and keep us smiling and laughing. I would highly recommend Dr. Holt and his staff to anyone who is in need of ortho work."
— Sandra Severini
Quality Excellent
---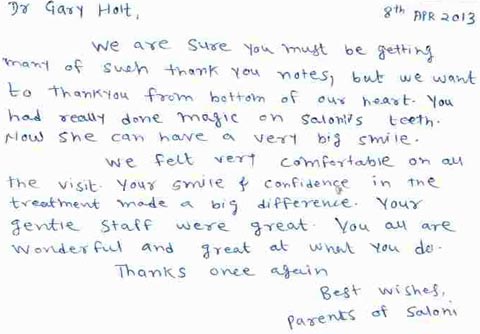 ---
---
---
---
---
Thanks to all the patients and families that allowed their pictures to be used. You all look amazing!